I told yer to call me Pope Jacko, yer stupid wop bastard!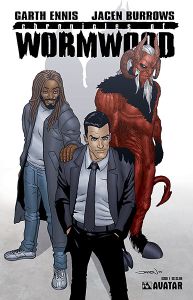 Danny Wormwood ist nicht nur ein schmieriger Fernsehproduzent, sondern nebenbei auch noch der Antichrist. Sein Verhältnis zu Daddy Satan ist aber nicht so gut und anstatt die Apokalypse zu leiten, trifft er sich lieber mit seinem seit einem Überfall geistig geschädigten Kumpel Jesus. Das kann Satan natürlich nicht auf sich sitzen lassen und holt sich die Unterstützung vom sexsüchtigen Pabst.
Unschwer an der Einleitung zu erkennen, schert Garth Ennis sich in seinen "Chronicles Of Wormwood" so rein gar nicht um Anstand, Respekt oder Tabus. Er feuert genüsslich eine schwarzhumorige Breitseite auf den Glauben und den Vatikan im Besonderen. Von Seite zu Seite schraubt er die Spirale der Absurditäten höher und nutzt die an sich eher nebensächliche Story für unzählige Seitenhiebe, die sehr gläubigen Menschen vermutlich schwer im Magen liegen werden.

Die Illustrationen von Jacen Burrows fangen Ennis' Ideen wunderbar ein und scheuen auch nicht vor ziemlich drastischen Darstellungen zurück, was allerdings nicht bedeutet, dass der Comic vor Blut, Gedärmen und Sex überquillt. Alles wird stimmig dosiert und durch den stets am Limit des guten Geschmacks schrammenden Humor gerechtfertigt. Man sollte allerdings nicht zu hochgestochenes erwarten. Ennis verfolgt hier eine ähnliche Strategie wie Kevin Smith mit seinem Film "Dogma", allerdings in vielen Bereichen gelungener und drastischer.
Wer sich nicht gerade vor gezeichneten Gedärmen und Sexszenen sträubt und auch keine Probleme hat, die Kirche gehörig auf die Schippe zu nehmen, dem sei dieses Buch ans Herz gelegt. Ich habe selten so einen bitterböse-witzigen, aber dennoch sympathisch-stimmigen Comic gelesen! Eine Fortsetzung sowie ein wohl eher mittelmäßiger One-Shot sind mittlerweile auch erschienen, allerdings habe ich beide bisher nicht gelesen. Ich empfehle wie immer das englische Original!
"Chronicles Of Wormwood" gibt's u.a. auf Amazon in englisch und einer deutschen Übersetzung.