To be afraid is a luxury
So cool your engines for me
I don't want a sweetheart
I want a machine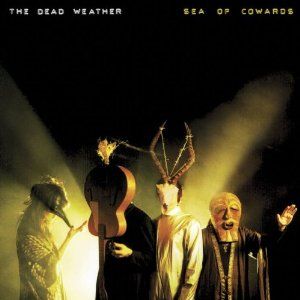 Es ist noch kein Jahr her, da ließen Alison Mossheart und Jack White ihr gemeinsames Bandprojekt mit einem Debut auf die Welt los. Nun schieben sie schon das zweite Album hinterher. Von Schnellschuss kann aber definitiv nicht die Rede sein.
Die Improvisation des Vorgängers musste ausgearbeiteteren Strukturen weichen, ohne jedoch auf den rohen Sound zu verzichten. Im direkten Vergleich hat beides seine Reize, wenngleich sich die Band hiermit um Haaresbreite steigern konnte.

Auf "Sea Of Cowards" schiebt die unfreiwillige Supergroup sicher keine ruhige Kugel. Überall quietscht, rumpelt und faucht es, oft ist nicht mal klar, welches Instrument da unter einem Effektmantel Geräusche von sich gibt. Zusammengehalten wird aber alles von absolut göttlichen Riffs, einem Mördergroove und dem verausgabenden Gesang des Frontpaares. Während der Vorgänger vor allem in den Songs mit Alison am Mikro überzeugen konnte, geben sich auf dem Nachfolger beide nichts und teilen sich nicht selten die Songs auf hohem Niveau.
Was auf den ersten Blick wie wild durcheinander wirbelnde Bandmitglieder klingt, offenbart auf den zweiten einen durchdachten, mit haufenweise Details angereicherten Noise-Blues, der es sogar schafft, durch Studiopolitur noch roher und rockender zu klingen als im Rohzustand. Aus der Garage waren sie schon vor einem Jahr heraus, den Klang bewahren sie sich aber. Eine Band, die so viel Energie auf 35 Minuten durch die Boxen drückt, hört man nicht oft. Wer dabei noch ruhig sitzen bleibt, ist entweder taub oder gelähmt!
Anspieltipps: I'm Mad, Die By The Drop, Jawbreaker, Old Mary
Jawbreaker