I hear the clockwork in your core
time strips the gears till you forget what they were for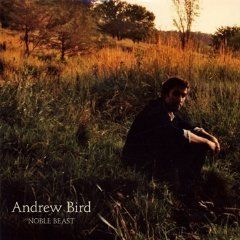 Auf das neue Album des verschobenen Multiinstrumentalisten habe ich mich gefreut wie schon lange nicht mehr, gehören die Vorgängeralben doch fast allesamt zu meinen absoluten, zeitlosen Favoriten. Nun, "Noble Beast" wird sich dort leider nicht so ganz einreihen können.
Bird's neuestes Werk ist sicher kein schlechtes Album, aber es springt einfach nur bei wenigen Songs der Funke über, den viele Songs der Vorgänger versprühten. Von allen Zutaten, die seine bisherigen Werke groß machte, fehlt hier und da ein kleines bisschen. Ein wenig mehr Ohrwurmigkeit und etwas verspieltere, weniger geradlinige Melodien hätten vermutlich schon gereicht, um in meiner Gunst aufzusteigen. So ist aber "nur" ein ordentliches Album entstanden, das sicher nicht so oft in meinem Player rotieren wird, wie die Vorgänger.
Anspieltipps: Oh No, Masterswarm, Not A Robot But A Ghost, Anonanimal
Livevideo zu Anonanimal nach dem Klick!